Rycote Invision Video Mini Review
10/08/20 11:07
RYCOTE INVISION VIDEO MOUNT - MINI REVIEW
Posted 25th Sep 2010 (UPDATED 2nd Feb 2011). Moved to Blog section during website rebuild in August 2020.
I bought this brand new design of on-camera shotgun microphone support after 2 successive failures of my Rode NT-SM3 shock mounts (the plastic becomes brittle on the Rode's and then fractures around the tightening screw). Not good in front of a paying client as I found out - twice! Let's begin by stating that the very worst place for a microphone in 99% of situations is on top of the camera. But sometimes it's the just only way, like in run-n-gun, right? So if you have to use an on-board mounted shotgun, here's what I think you want to know about the new Rycote Invision Video, followed by a very simple (non destructive!) modification I've done to it to make this excellent item much easier to use (if you use it like I do).
Positives:
Inexpensive (about £50 in the UK)

Very robust

Very flexible in configuration allowing you to position any variety of on-board shotgun mic exactly as you would want on an equally wide variety of cameras

Will move to the side if the microphone gets knocked (e.g. in the rough and tumble of run-n-gun such as in crowd jostling video journalism scenarios). Thankfully this is not typical in my normal corporate shoots!

Minimum droop, even with a heavy all metal Rode NTG-3 and WS7 hanging on it

Ability to mount shotguns of varying girths

And most of all, superb microphone isolation using the patented Rycote "lyre" system. Sure, it won't work total miracles in isolating any rough camera handling noise - but it's certainly the best in it's class.
Negatives:
The cable clip on the rear of the mount is way too small/tight for any of my mic cables - so I just don't use it.

UPDATE 25th Sep 2010 6PM: Regarding the above point, I've just learnt that it's designed for the special Rycote, short and narrow XLR cable (a £15 + VAT accessory). This cable is designed to reduce vibration transmission along its length, so helping to keep the microphone nicely isolated. It's the same narrow cable supplied with the Rycote S Series 330 - that I also own - reviewed a while ago

HERE

. That all makes perfect sense now so I'll try that cable with this Invision Video next time I'm filming run-n-gun!

Not much else at all really, apart from a very irritating (but thankfully simply rectified) omission in the supplied assembly from Rycote. Interested? Read on.
My Suggested Simple Improvement
The main problem with it (how I use it on my awkward to pack away Sony PMW-EX3) is this. If you don't break down your kit and remove the microphone shock mount to put everything in your camera bag as often as I sometimes do every day, then fine. But if you do, frequently trying to re-mount the Invision Video Mount on the camera hot shoe is a real pain, very fiddly and often frustrating. Why? Well, you need to hold the chamfered plastic collar "up" as you slide it on. It's not as easy as it sounds, even with my (not very fat) fingers! The small plastic collar immediately above the brass metal shoe plate keeps dropping down and blocking it from sliding on. The picture below shows the Rycote Invision Video as supplied and the offending collar in it's usual position - in the way!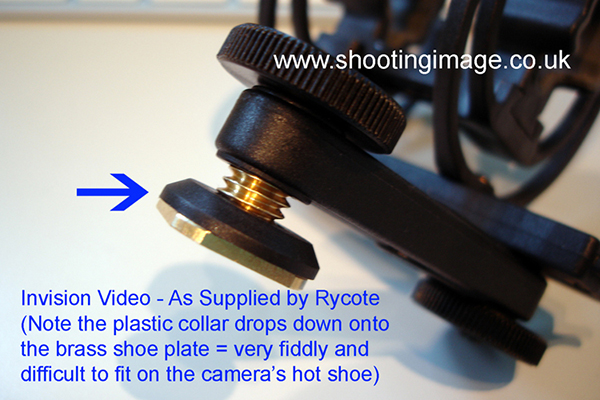 Now maybe it's my scientific/engineering background but to me the solution was simple. A quick trip down the hill to Peck's of Ely and their agricultural spares department procured a £1.18 spring (something off a tractor or JCB no doubt!) which I could easily modify for the task in hand. The picture below shows the disassembled parts of the shoe mount together with the (rather long) donor spring I'd bought. From it I'd hacksawed off a small portion, the bit arrowed.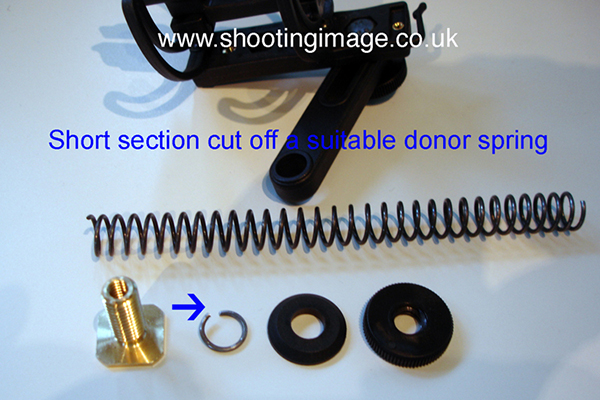 And below is a closer shot of the small spring section I'd cut. By the way, in case you're wondering, my paying professional photography and video work is generally better than this quick "Photoshopped Snaps" approach!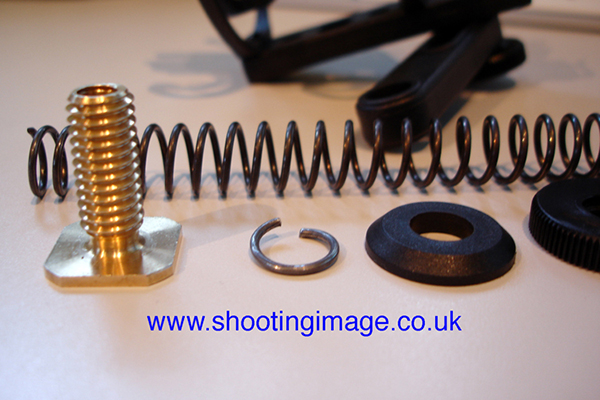 Next, you can see how this tiny spring section, when in position, now keeps the chamfered plastic collar held nicely above the bottom brass shoe plate, leaving that all important gap (arrowed) that allows you to quickly and easily slide the Invision Video Mount onto your camera's mounting shoe. That's it! No more tedious seconds (even minutes) wasted attempting what should be such a very simple operation.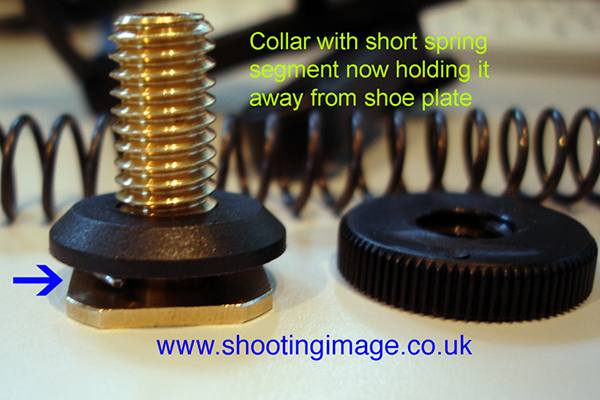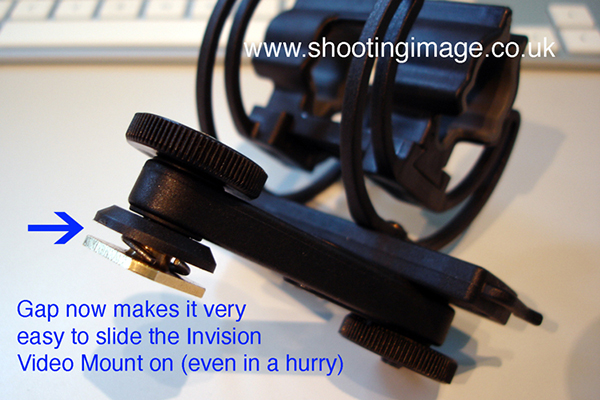 And, below, are a couple of shots with it all on the EX3. This mount is "the business" and this mod took me just 30 minutes to do (including the time to go to the shop and purchase the spring). As you've seen, it's a very simple, non-destructive and low cost modification - the sort I like! One other thing. It's possible a small 'O' ring in this position might also do the trick equally well - as long as it's able to be compressed without much force.